Constructing spatial form with sound
This project investigates mathods of procedurally generating 3D meshes from sound and music with the intention of then printing the resulting form.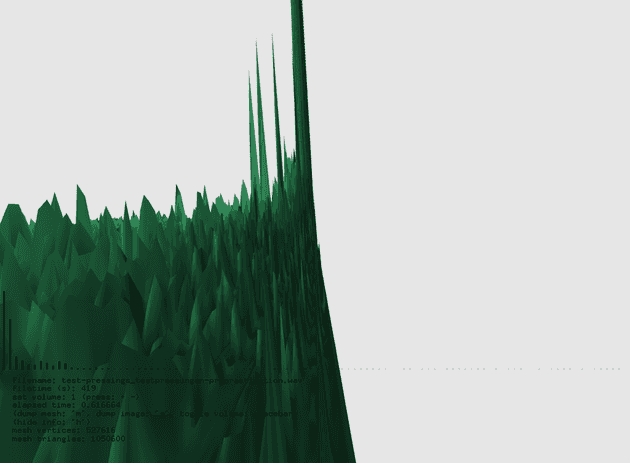 Analogue form is analysed, sound becomes landscape and light through the transformational power of code. A mapped terrain of data is encoded in a virtual space then reified and sold. Technology territorialzes reality and makes it available for sale in the act of transmution performed by captial on material.
The code can be found on Github.
Images
The result of printing generated white noise with a progressively reduced band-pass filter:
How I fixed the mesh for printing.
Import the PLY and Export an STL from Meshlab
Load the STL into netfabb

click the healing + Update statistics - invalid orientation - normal facing inwards Automatic repair + reply results in a single shell, with no holes
statistic - update
use measuring tools to check the minimum wall thickness 0.7mm
scale between min and max bounding box sizes 7.5mm - 650 × 350 × 550 mm
measure again
check it's manifold - no edges shared by more than 2 faces load in blender and select non-manifold edges
Upload to shapeways - automatic checking tools + manual repair tools
Images